5 sightseeings you can not miss in Malmö
April 12, 2017, 3:50 p.m. • W16xpgPN5G
Forget Turning Torso – Malmö offers so many fun and interesting attractions that you will not have to spend any extra time to see a skyscraper. When you visit Sweden's third-largest city, you can expect to get your schedule filled. Here is an abundance of attractions to explore, both for adults and children. Depending on the type of stay you do in Malmo, what interests you, and what time of year you visit the city, the best attractions in Malmo obviously changed. We have listed five of the best attractions in Malmo.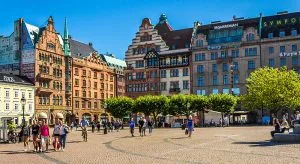 The castle garden – an oasis in the city
In central Malmö, among all the shops and restaurants, is a large and beautiful garden, the castle garden. In this quiet and relaxant oasis is a nursery. Take the opportunity to buy beautiful plants, such as Japanese black pine and Turkish oak. If you visit Malmö in summer it is especially exciting to be here when everything is in bloom and the green and nice. During the summer months, you can also even buy vegetables here. Take the opportunity to take a coffee at the cafe here, a cozy place to enjoy morning coffee on. As soon as you enter the castle garden you are greeted immediately by a calmness, a pleasant break from the big city rumble. Taking a slow walk at the lake or take some photos of the many flowers. After an hour or two in the garden, you will surely feel refreshed and full of energy again.
Art Compass
Do you want to continue exploring Malmo in a peaceful and comfortable pace, we strongly recommend that you explore the Art Compass. Did you have any idea that there are numerous works of art scattered in Malmö city? Full 300 different works, you can find with the help of Art Compass. Through the website www.malmo.se/konstkompassen, you can quickly find out how and where you can find all the artwork.
Science and Maritime House – fun entertainment for children and adults
When you can not be bothered dashing around town longer be a visit to the Science and Maritime House be interesting. This museum provides an interesting insight into Malmö's industrial history. Sounds boring? It is the very opposite! It offers a variety of exciting and fun experiments that both children and adults can enjoy. Perhaps you have wondered how it is that staying inside a submarine? Here's your chance to try it!
Go back in time – visit Lilla Torg
One of the absolute gems when it comes to Malmö's best attractions is undoubtedly Lilla Torg. The old square has been around since the 1600s, which is evident even today in view of the old small houses that line the square. Besides, this is a perfect place to take some photos, it is also where you will find some of the city's best restaurants and cozy cafes. In the summer, worn-out pavement cafes and there are good opportunities to enjoy a cold beer in the summer sun. During the winter it is at least as beautiful as the old houses adorned with white snow.
Petri Church – a must for history lovers
Malmo is an ancient city that offers many interesting relics. One of these is St. Petri Church, a gorgeous church that was built during the 1300s. The church is located just north of the Old Town in central Malmo and is a pleasant walk from the canal that runs outside. Ps. If you are keen to also want to check off Turning Torso from the list, you should obviously do so. This is, after all, Sweden, and indeed the whole of the Nordic region's tallest skyscraper. Ds.

Posted in Uncategorized